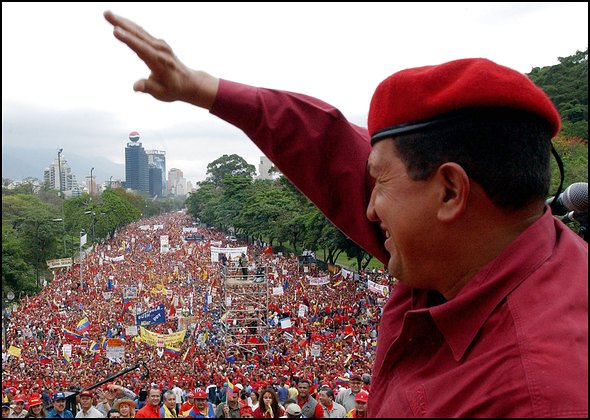 Updates:


- 150 European Parliamentarians Declare Support for Venezuela Reform
- Supporters of Reforms Rally Today (Will the NYTimes Cover that?)
- Media reporting polls showing a "toss up" but that is not the actuality.
- Media reporting that Chavez supporters are militant. People no the ground report that it is the upper-middle class anti-Chavez protesters who have incited violence all along.
- BBC Coverage Mostly Accurate

A document outlining a plan by the United States to
destabilize
Venezuela
durin
g and
after their voting on December 2
nd
has been leaked. The US government is trying to change public opinion, incite violence, and use other tactics to derail the
overwhelming
support for the reforms put forth by president Chavez.

If you think these tactics sound extreme, I encourage you to think about what happened in 2000 and 20004 when the election was stolen from Gore and Kerry. We had a media machine funded by the right-wing lying about the polls and public opinion. We had shady vote counters, automated racist and homophobic phone calls, automated phone calls saying polling places were closed, streets blocked by police, and people wiped clean from voting records - to name a few of the tactics.

Regardless of your support for Chavez and the
Bolivarian
Revolution, I encourage people to evaluate and investigate the actions of the United States government in interfering with elections and human rights around the world.

Eva

Golinger

, a Venezuelan-American and author of The Chavez Code is living in Caracas to live, report on, and investigate the revolution. She writes...


"

In the memo, the CIA proposes the following tactics and actions:
*Take the streets and protest with violent, disruptive actions across the nation
*Generate a climate of

ungovernability


*Provoke a general uprising in a substantial part of the population
*Engage in a "plan to implode" the voting centers on election day by encouraging opposition voters to "VOTE and REMAIN" in their centers to agitate others
*Start to release data during the early hours of the afternoon on Sunday that favor the NO vote (in clear violation of election regulations)
*Coordinate these activities with

Ravell

&

Globovision

and international press agencies
*Coordinate with ex-

militar

officers and

coupsters

Pena

Esclusa

and

Guyon

Cellis

- this will be done by the Military Attache for Defense and Army at the US Embassy in Caracas, Office of Defense, Attack and Operations (

DAO

)

To encourage rejection of the results, the CIA proposes:
*Creating an acceptance in the public opinion that the NO vote will win for sure
*Using polling companies contracted by the CIA
*Criticize and discredit the National Elections Council
*Generate a sensation of fraud
*Use a team of experts from the universities that will talk about how the data from the Electoral Registry has been manipulated and will build distrust in the voting system

The CIA memo also talks about:
*Isolating Chavez in the international community
*Trying to achieve unity amongst the opposition
*Seek an

aliance

between those

abstentionists

and those who will vote "NO"
*Sustain firmly the propaganda against Chavez
*Execute military actions to support the opposition mobilizations and

propagandistic

occupations
*Finalize the operative preparations on the US military bases in Curacao and Colombia to provide support to actions in Venezuela
*Control a part of the country during the next 72-120 hours
*Encourage a military rebellion inside the National Guard forces and other components"

Not convinced? The
non-partisan
Center for Economic and Policy Research has issued this press release today.

Risk of Deceptions in Venezuelan Referendum,

CEPR

Warns

Recent History Shows Use of Fake Polls, Other Efforts to Undermine Credibility of Electoral Process

FOR IMMEDIATE RELEASE: November 28, 2007
Contact: Dan Beeton, 202-293-5380 x104

WASHINGTON, D.C. - There is a significant risk that fraudulent polls and other deceptions will be used to challenge the results of Venezuela's referendum, if proposed constitutional reforms are approved this Sunday, according to Center for Economic and Policy Research (CEPR) economist and Co-Director Mark Weisbrot.

"The international media has not always exercised due diligence in its reporting on polling data and elections in Venezuela," said Weisbrot, who has authored papers on previous elections there.

"This opens up the possibility for the use of fake polling, as was done in the last (2004) referendum, to cast doubt on the results if the proposed constitutional reforms are approved," he said.

In 2004, the influential U.S. polling firm Penn, Schoen, and Berland published fake exit polls on the day of the Presidential recall referendum, showing President Hugo Chávez losing by a 59-41 margin.[1] The actual results, which were certified by observer missions from the Organization of American States and the Atlanta-based Carter Center, showed the opposite, with Chávez winning by a margin of 58 to 41 percent.[2]

The fake exit polls were not the only dubious polls that plagued the last referendum. Most of the pre-election polls in 2004 showed the race "too close to call." Although these were conducted by opposition pollsters, most of the international media accepted them in their reporting. As CEPR demonstrated at the time, it is extremely unlikely that a properly conducted poll could have shown a result that was "too close to call."

The election's credibility was also attacked by a widely-cited statistical paper[3] purporting to show evidence of fraud.[4] CEPR showed that this analysis was deeply flawed and provided no such evidence; the Carter Center later commissioned an independent panel of statisticians from U.S. universities, which confirmed CEPR's finding and concluded that there was no statistical evidence of fraud. Nonetheless, the Wall Street Journal and some Latin American media outlets used this paper and the fake exit polls to claim that the referendum was actually stolen through a clever electronic fraud.[5]

On this basis of such analysis and fake exit polls, most of the opposition rejected the results of the 2004 referendum, and went on to boycott the 2005 national elections.

In the 2006 Presidential election, Penn, Schoen and Berland once again produced questionable polling data showing the race to be in a " very close" just before the election. Other pollsters, including Zogby International, showed an 18-29 point spread favoring Chávez.[6] According to the Miami Herald, this led to the sudden departure of Doug Schoen - who was responsible for the Venezuela polling - on the eve of the election.[7] Chávez won the presidency by a margin of 63 to 37 percent.

"The international media's reporting on the current referendum so far is not encouraging," Weisbrot said. He noted that on November 7th, "almost all of the U.S. and international press reported that pro-Chávez gunmen had fired on a crowd of peaceful protesters returning from a demonstration against the reforms.[8] We now know that this is not at all what happened."[9]

Weisbrot also noted that the media has given wide coverage to a poll by Datanalisis this week showing a defeat for the proposed reforms.[10] The firm's longstanding ties to the opposition, and its serious polling errors in the last referendum, were not mentioned in the press.

The Center for Economic and Policy Research is an independent, nonpartisan think tank that was established to promote democratic debate on the most important economic and social issues that affect people's lives. CEPR's Advisory Board of Economists includes Nobel Laureate economists Robert Solow and Joseph Stiglitz; Richard Freeman, Professor of Economics at Harvard University; and Eileen Appelbaum, Professor and Director of the Center for Women and Work at Rutgers University.

CEPR receives approximately 80% of its funding from foundations, and receives additional funds from a growing number of individual donors. We do not receive any funding from governments (with the exception of a small grant from Washington State in 2003). For more information, click here.
##

Center for Economic and Policy Research, 1611 Connecticut Ave, NW, Suite 400, Washington, DC 20009
Phone: (202) 293-5380, Fax: (202) 588-1356, Home: www.cepr.net